Board Of Directors
Every member of the management team brings their expertise and experience to the table. The dynamic Chairman Mr. Arun Muchhala heads the management team. Mr. Suraj Muchhala leads the Entertainment and Construction verticals. Mr. Aarav Muchhala, the Managing Director of the Education vertical lends his leadership qualities towards shaping the lives of students in the polytechnic and hotel management colleges. Mrs. Akshita Gandhi Muchhala is the Managing Director of the hospitality vertical. The following esteemed members are an integral part of the team: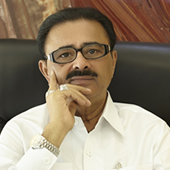 Mr. Arun Muchhala
Founder & Chairman
Mr. Arun Muchhala is a veteran in the corporate sector. He's renowned for his contribution towards building affordable environment - friendly homes. A first generation entrepreneur, Mr. Arun Muchhala has been primarily responsible for the group's transformation - from a business supplying construction material to one of the largest business groups spread across real estate, hospitality, education and entertainment sectors. Mr. Arun Muchhala attributes his success to the core values of trust, strong ethics, commitment to growth and development. Some of his successful ventures include Sai Baba Park, Sai Baba Nagar and Sai Baba Dham, Sai Baba Vihar complex , Sai Baba Complex and Sai Baba Enclave.

Mr. Arun Muchhala is widely known as a philanthropist who strongly believes in giving back to the society. He has adopted the village Sarasiya in Gujarat and provided every household with direct access to clean drinking water.

By setting up a series of educational facilities, Mr. Muchhala has taken a great step forward for training young minds in various fields. His belief in strong educational qualification is the guiding force behind setting up educational institutions that offer quality education with the right learning atmosphere.

Mr. Arun Muchhala strongly believes in improving the quality of life of the people in India. Through the lineage of Arun Muchhala Group, he strives to reach out to people across the spectrum & meet their day-to-day needs.
Mr. Suraj Muchhala
MD, Real Estate, Entertainment, Leisure
Hailing from a family of entrepreneurs, Mr. Suraj Muchhala joined the family's business when he was 16. A second-generation entrepreneur, Mr. Suraj Muchhala made his mark as the Managing Director of Arun Muchhala Group, with his first project Suraj Water Park in 2004. He was designated as the proprietor of Suraj Water Park. Referred to as the Pride of Maharashtra and featured in the Limca Book of Records six times, Suraj Water Park stands out as a one-of-a-kind entertainment park that provide wholesome entertainment for the entire family. With his unique ability to connect with the employees and a strong hold in management, Mr. Muchhala stands by the company's moral and ethical standards.

Holding a Diploma in Hotel Management, from AH & LA American hotel and lodging association he has headed the development of one of the most iconic real estate projects, Sai Baba Boulevard. Since the project's inception in 2013, Mr. Suraj Muchhala spear-headed the development of Sai Baba Boulevard which spans across 30 Lakh Sq. Ft. in Boisar, Maharashtra. This project is the largest township to be built by the Arun Muchhala Group. Apart from the real-estate projects, many of the multiplexes and amusements parks in Gujarat have been built under the stewardship of Mr. Suraj Muchhala.

Mr. Suraj Muchhala' s accolades include winning thebestintegrated township award at the 29th National Real Estate Awards for excellence. He was also honoured with the young entrepreneur of the year (2015) for excellence in real estate which is hosted by The Construction Times.
Mr. Aarav Muchhala
MD, Education
Educational Institutions were started in order to provide young minds with the facility and opportunity to learn. Mr. Aarav Muchhala heads the education – based initiatives of the Arun Muchhala Group as its Managing Director. He single-handedly takes care of all the activities relating to Muchhala Polytechnic College (Thane, Mumbai), Arun Muchhala College of Hotel Management (Thane, Mumbai), Arun Muchhala Research Centre (Gondal, Gujarat) and Arun Muchhala Engineering College (Dhari, Gujarat). Mr. Muchhala has been the pillar behind setting up two colleges in Gujarat. A strong believer in discipline and quality education, Mr. Muchhala has been responsible for getting the colleges accredited by AICTE and affiliated to Gujarat University. Some of his major accomplishments include adding new courses to the engineering college, setting up facilities such as state-of-the-art laboratory, and an excellent library for students.

Mr. Muchhala prioritizes the welfare of the students above anything else. An excellent team player, he believes in allowing people to work with complete freedom. Never the one to miss out on challenges, Mr. Muchhala constantly endeavours to take on new roles and responsibilities to expand the horizons of education in India. A stern believer in an open door policy, he encourages the staff and students to meet him without any prior appointments, and is open to receiving feedback or suggestions.

Apart from curriculum, the colleges under the guidance of Mr. Muchhala focus on building soft-skills of the students. Providing holistic education, he strives to ensure that his students are always at the advantage of being job-ready. An avid badminton player, Mr. Muchhala has also won many tournaments during his school and college days. A self-confessed technology lover, Mr. Muchhala loves following new trends in technology and experimenting with them.